Attention Authors, Speakers, Marketers, Business Owners, and Entrepreneurs…

"What Do Apple Pie, Corn on the Cob, and Summer Bar-B-Que Have To Do With Writing Simple and Effective Sales Copy for Your Products? Everything!"
["And This Is Just The Beginning…I'll Teach You How To Write Sales Copy That Sells"]
There Has To Be A Simpler Way To Write Compelling Sales Letters and Web Sales Copy…There Is – And I Can Teach It To You!
I'm Connie Ragen Green and I have been working exclusively online since 2006. When I first encountered the world of online marketing back in the late fall of 2005, I was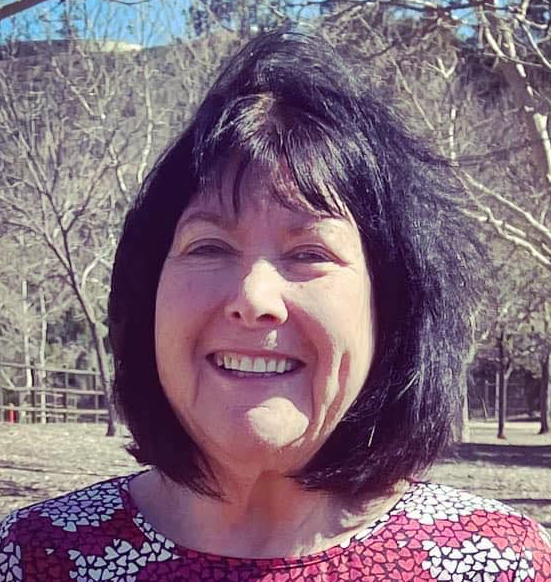 enthralled with the idea of "making money while I slept". I soon discovered that this was hard work and set about to learn as much as I could during my every waking hour about creating information products and online courses.
But one piece of the puzzle that kept holding me back was writing sales letters that persuaded my prospects to purchase what I was offering for sale.
Writing Sales Copy for My Information Products Was The Missing Piece of The Puzzle
But it all came together for me and now I'm here to teach you how to do this as well. These days I am able to earn income not only while I sleep, but also while I travel, play, spend time with family and friends, and more. A few years ago I even earned online income while I was knocked out under a general anesthesia during a minor surgical procedure! This is all thanks to the affiliate marketing strategies I have learned, implemented, and perfected over this past decade as an online entrepreneur. In fact, those who know of me on the internet have referred to me as the "Marketing Madwoman" and I take that as a compliment.
Now I want to teach you how to do the same thing, quickly and easily…
Introducing: Really Simple Sales Copy Workshop…



A Five Module Interactive Workshop Training
to Teach You The Skills To Become An Effective Direct Response Copywriter For 2023 And Beyond
Really Simple Sales Copy Will Teach You:
How To Quickly and Effectively Write Web Sales Copy That Converts Visitors and Prospects into Buyers! You'll  Increase Your Income as You Build Your Business as an Entrepreneur!

Copywriting Is NOT As Difficult As It May Appear;
I Can Teach You How to Become Good At It!

In fact, writing effective sales copy can be fun! Imagine describing your new product or course to the people who will most benefit from purchasing and using it. It's simply a matter of learning the structure and the format that works online as web sales copy.

What you need is detailed, organized copywriting training from someone who's been there. That person is me. I went from earning almost no money at all online in 2006 to now earning six figures each month – all from writing my own sales letters and marketing them to my target audience.

Later on I'll share how you can apply this skill to the offline world as well for lucrative profits, but for now I want to tell you my "Reason Why" for creating this Really Simple Sales Copy Workshop.
Why I Created This Workshop
After struggling with writing my own sales copy for so long, and not finding the help I had needed and my clients and mentees longed for, I decided to teach what I had learned over the past decade that continues to be effective for me. I couldn't bear for one more person to tell me they had worked hard, created products, and didn't make sales (or at least not very many sales) because their web sales copy was weak and ineffective.
If you already know me, then you know that I over deliver when it comes to teaching my students. In fact, I'm a former classroom teacher and use some of the same methods and techniques in my online training programs as I did in the classroom…because they work!

We'll Examine Every Aspect Of Copywriting For The Web, And In This Comprehensive Workshop You'll Learn How To Write:
Compelling Pre-Headlines and Headlines to Grab Your Reader's Attention

Features and Benefits Bullet Points So Prospects Will Know What's In It For Them

The Reality – Problem – Solution Strategy that Emphasizes Your Product as the Solution

A Powerful Zeigarnik Effect Open Loop Where Readers MUST Know What Happens!

Scarcity and Urgency so that Prospects Will Be Encouraged to Purchased Right Away

The "Reason Why" Strategy of Explaining Why Your Product Came to Be Created

Testimonials for You and Your Products to Give You More Credibility Online

Guarantees and Why a Longer One is Preferable for All of Your Products

The Elusive P.S. and How to Use This Technique Most Effectively to Get the Sale Now

And Much More!
With My Training You Will Easily
Learn How To Write Web Copy That Sells, and Become A Respected Copywriter
During the Modules of this Really Simple Sales Copy Workshop You'll Learn…
Exactly HOW to get started with your sales letter

WHEN to rewrite existing sales copy and when to start fresh

WHY compelling sales copy is actually such a simple skill to master
And WHERE to use subliminal messages within your web sales copy
WHO is most likely to respond favorably to your sales copy on a regular basis
This isn't a course on the theory of copywriting and writing web sales copy. Theory has its place, but this course – the Really Simple Sales Copy Workshop – is about the practical side of writing web copy that sells. Over the past fifteen years my business has carried on profitably from the beaches of southern California, internet cafes across Europe, remote areas of Asia, as well as from my home offices in both Santa Barbara and Santa Clarita, California. This is all thanks to the products and services I recommend on a daily basis, using the exact methods and strategies I have time tested since 2006. I'll teach you exactly how to do the same thing, in a way that suits your lifestyle and goals.
Have you ever written up a flyer to let people in your neighborhood know about a lost or found pet, or shared information about an upcoming party or other event? That's copywriting! So if your information helped a lost animal return home or an event fill with people interested in what was happening, you're already ahead of the game.
I have more years of formal education than I care to admit. In fact, I was something of a professional student well into my forties. Looking back I now understand that much of what I learned was theory, when what I truly needed was information on what was working at that time. Whether I was in graduate school working on an MBA, a law degree, or a Master's in Technology and Instructional Design, the professors dwelled on what "could" be effective more than on what was proven to work well in practice. And I decided not to complete one of those graduate programs. My promise to you is that I will only cover and teach you what is still working effectively in 2023 and beyond.
My Motto Is To "Keep It Simple"
Just as I do with my Online Marketing Incubator and Platinum Mastermind clients, my goal with this live workshop training is to keep it all simple. By this I mean that you will only be exposed to what you need and what is working for me and for other successful direct response copywriters. My promise to you is to not waste any of your valuable and precious time with training that is not absolutely crucial to your success.
Instead of teaching you WHAT  to do to grow your online business with effective copywriting, I'll be teaching you HOW  to do it with the exact, step-by-step techniques and strategies that will have you writing stellar sales copy in your chosen niche faster than the speed of light and sound!
"The Paparazzi Will Never Find You Here"
And writing web sales copy is not only for sales letters and online products. Earlier I promised to share with you how you can apply this skill to the offline world as well for lucrative profits. I have friends in Santa Barbara who were trying to sell their home in an area that's a favorite with some names you'd recognize (think Jack Canfield, Jeff "The Dude" Bridges, Kenny Loggins, and Oprah Winfrey) and this gorgeous home sat on the market for almost a year without an offer. They brought me in to help with the marketing and I created a flyer that sold their home within three weeks. It was secluded up in the hills overlooking the ocean in an area referred to as "The Riviera" and we had remarked that it was too difficult for anyone to find. I knew that was the hook and my headline above became the one we used to advertise their home to find the new owner. In the end it was my copywriting skills and not my marketing expertise that enabled them to close the sale!
Copywriting is also crucial, as well as essential for email marketing, books and other products on Amazon and other e-commerce sites, blog post titles, and titles for articles and short reports. We'll discuss it all and you will be on your way to success in your chosen niche.
We'll Explore Sales Copy In A Variety of Niches

These Niches Include…
Self Improvement/Personal Growth/Personal Development
DIY/Home Improvement
Time Management/Organization
Make Money Online/Real Estate/Investing

Relationship Goals (All Types of Relationships)

Hobbies/Sports/Games
Home/Family/Pets
Truly An "Earn While You Learn" Business Model

Online entrepreneurship is a worthy goal, and one that can only be accomplished by doing it, not by continuing to learn more and more and not applying anything directly to what you are working to achieve. At the end of each of the Modules of the Really Simple Sales Copy Workshop you will have a Plan of Action to get your sales pages created and out to the world. No more hesitation, procrastination, or concern over how and what to do each day you are in front of your computer writing your sales copy. And by applying what you learn you will then have different questions. This training builds upon what you already know, what I will be teaching and sharing with you, and what you find out for yourself as you take directed action each week.
Because I've been doing this full time since 2006, I feel uniquely qualified to help you move forward in the right way. And your success as an online entrepreneur and copywriter is my greatest reward!
Regularly I am asked whether or not the window of opportunity has already closed for new entrepreneurs when it comes to building a profitable business by selling your products and courses on the internet, when you have absolutely no experience with direct response copywriting. This is my take on that…
The Reality…
Writing Powerful and Effective Web Sales Copy and Sales Letters Will
Grow Your Business Quickly
.
The Problem…You Believe that Copywriting is Difficult, Requires Years of Study and Practice, and Is Only Effective When a Professional Copywriter Writes It For You. You feel like trying to sell your products on the internet could just be a big waste of your time, energy, and money with little or no payoff to show for it.
The Solution…My Really Simple Sales Copy Workshop will turn you into an effective and unstoppable Direct Response Copywriter. I'll teach you how to break down your sales page into sections and use a fill-in-the-blanks template to create your own powerful and compelling sales pages. This type of hard work and dedication will turn your dreams and goals into your reality.
Learning How to Write Effective Sales Copy Will Mean the Difference Between Selling Your Products and Watching Them Gather Dust on the Shelf
That's correct. If your sales letters are not written well you may never sell your products, or at least not many of them. These are the "building blocks" of writing effective web sales copy that we will study, learn, and practice in real time during your Really Simple Sales Copy Workshop…
Headlines (We'll write these together, based on proven examples)
The "Zeigarnik Effect: Open Loop (Later on I'll explain the significance here)
Reality – Problem – Solution (Allows your Prospects to see YOU as the Solution to their Problem)
Features and Benefits (So that Prospects know WHY your Product is So Crucial for Success)
Conviction Statement (Explains why THIS Product is So Valuable to Them)
The "Columbo" Technique (This One is a "Money Machine in a Trench Coat")
The Elusive P.S. (So Prospects will Know What to Do Next)
Imagine having the skill to write direct response web sales copy quickly and easily for all of your products and courses. This knowledge and skill is the best way to ensure that you can sell what you create, and you never know where it might lead you in the future.
If You've Always Wanted To Earn Income By Selling Products Online, This Is Your Opportunity to Learn to Write Effective Sales Copy for the Web
Helping others is rewarding and satisfying, and I want you to have this experience as I teach you how to create sales letters that sell. Imagine the feeling of being able to sell your own products, services, and courses on the internet by writing words that sell. This skill will enable you to change the direction of your life and financial future forever.
I worked as a classroom teacher for twenty years, and during that time I had absolutely no control over my income. One year the union had us go on strike for two weeks, and I had zero income during that time. If I hadn't been working part-time in real estate on the side, my house payment and other bills would have been late or not paid at all. Having your own online business is the best hedge against inflation and a weak economy, and the piece that holds almost all new online entrepreneurs back is the copywriting piece of the puzzle.
I've been online since 2006, so it just makes sense that I've had more opportunities to write sales letters and other web sales copy based on this longevity. I currently have more than fifty products and courses selling online, so I know that what I am teaching you works in the online space. If you're just getting started, it makes sense that you will step by step guidance to write stellar, effective sales copy. And this is why I feel uniquely qualified to take you by the hand and move you closer to where you want to be during this Really Simple Sales Copy Workshop.
---
This Really Simple Sales Copy Workshop Training Course Is Now In Home Study

All Sessions Have Been Recorded and Added to
Your Member's Area For Your Convenience

---
Each Session is a Workshop Unto Itself,
Where the Goal Will Be for You to Learn the Steps of Writing Effective and Compelling Sales Letters and Web Sales Copy to Sell Your Products and Courses Online.
You'll Experience Immediate Gratification During This Process If You Are Ready to Take Action.
The Five Modules In Really Simple Sales Copy Include…
Module 1 – Getting Started As An Effective Copywriter

This is where we begin your Workshop and you get to practice writing every aspect of your sales letter
You then begin your own document that will become your sales offer page
Module 2 – Advanced Steps for Copywriting for the Web and Beyond

We continue writing your sales letter
You learn about other types of copywriting for your online business
Module 3– Interactive Sales Copy Clinic

This Module is a "Sales Copy Clinic" where we will work on your sales copy together
Module 4– BONUS Module 1: The "Template" Model for Writing Sales Copy
Chunking Down Your Sales Copy into Pieces Using My Step-By-Step Approach
Why Writing Sales Copy Requires Micro-Skills and How to Use Them Effectively
Module 5 – BONUS Module 2: Your "Sales Copy Clinic" and Additional Copywriting Strategies

"Sales Copy Clinic" for the first half of this class – bring your sales pages for critique!
The "10 Sentence" Shortcut to Writing Powerful and Effective Sales Copy
How to Write Web Sales Copy for Others
Attracting Clients Who Want You To Write Their Copy (and will pay you well to do so!)
When to Make the Jump to Becoming a "Copywriter for Hire"
Oh, and one more thing before I forget. I've put together some incredible Bonuses that are intended to knock your socks off when it comes to learning direct response copywriting…
---
BONUSES – Available for Two Full Years After Joining

A 30 Minute "Laser Focused" One-On-One Call With Me To Discuss Your Business Goals
An Opportunity To Have Me Critique Your First Sales Letter
Webinar Replays, Audios, and Notes from Sessions with Copywriter Michel Fortin
Webinar Replays, Audios, and Notes from Sessions with Copywriter Colin Theriot
Materials, Resources, and Content Directly Related to Writing Web Copy That Sells
"How to Create Headlines That Sell" from Adrienne "Leave the Corporate World Behind" Dupree, where she shares the 5 types of headlines that work effectively for her sales copy.

"Copywriting Strategy Session" and Handout from Finnish Copywriter Juho Tunkelo
---
Just to Recap, You'll Receive…
Three Primary Sessions, where we go through every aspect of sales copy, based on my "16 Point Checklist"
Webinar replays and separate, downloadable audio replays so that you can go over the training as many times as you like
Two Bonus Sessions on how to write sales copy for others, attract the right clients, and become known as a "copywriter for hire"
Webinar replays, audios, and notes from world renown copywriters Michel Fortin and Colin Theriot
Replay of a "Copywriting Strategy Session" with Finnish copywriter Juho Tunkelo
Laser focused one-on-one call with me to discuss your business goals
Adrienne Dupree's training on "how to Create Headlines That Sell"
Your Workbook and Templates for writing your own sales page during the training course
A personalized critique of your sales letter and sales copy
My personal promise to teach you everything I know on writing effective sales copy
Join Me For Really Simple Sales Copy and Become an Effective Copywriter!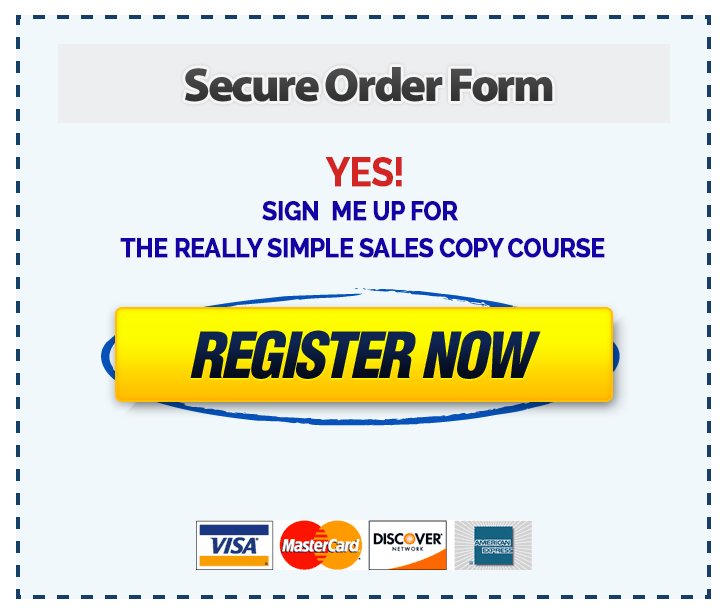 No Coupon Necessary!


Now is the time for you to learn the copywriting skills that will bring income your way. If you've been thinking about building a profitable online business, no matter what your niche, this is the way to make it happen.

I May Not Ever Offer This Workshop to The Public Again
It can be exhausting to help a group of students with copywriting, and I reserve the right to only teach this to those who sign up right now. We will work together as I continue updating and adding to this training course. If you want to be a "Charter Member" this could be your only opportunity to come aboard.
All Sessions Are Recorded and Have Been Added To Your Member's Area.

P.S. There is limited availability for this course because of the personal attention I am giving to each student throughout our time together. Please do not hesitate to get registered now, as this workshop and training course will increase when I announce the Season Two Live Workshop.

P.P.S. This is the first time I am offering this Really Simple Sales Copy Workshop. Please join now and be included in all future LIVE sessions over the next two years at no additional cost.

What Others Have To Say About Me…
It's your integrity, your servant heart, and quality courses that have kept me as a customer for so many years. Not too long after I found you, I ordered a course, twice. Quietly, behind the scenes, you credited my account. How did I find out? I noticed it on my statement. That act revealed that you were a woman of integrity; one I wanted to continue to do business with and to learn from.~ Joyce Heiser
If I didn't already know you, I would want to. ~ Faylee James
Just to say how much I enjoy your training courses, and how helpful I find them. ​I appreciate the effort and personal touches you put into it, too.​ ~ Alex Rowan
I'm a fan. I have two of your books. Thanks for being a great teacher and writer. ~ Tony Marino
Connie has a gift for communicating large concepts in ways that make communication possible. She speaks a kind of language that is engaging and easy to comprehend, and this is what students like. I've been teaching online and offline courses for a number of years. I took Connie's program because I wanted to see someone else's system. I like Connie's methodology, and I'm glad I took her course. Thanks, Connie. You're a wonderful teacher. ~ Marilyn Gordon
Disclaimers and Legal Rights | Affiliate/Earnings Disclaimer | Terms of Use | Privacy Policy